Workstations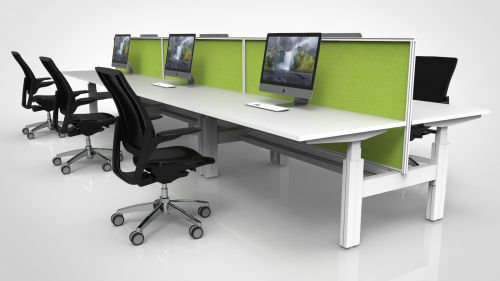 Sierra Office Solutions offer a wide variety of Workstation Solutions to suit your clients' needs.
With the ability to manufacture our Staxis Screen Systems ranging from 35mm Thick to 75mm and desk tops made to any size and specification to satisfy your clients' layouts for each project used in conjunction with many different styles of quality workstation bases gives us a unique position in the market to manufacture and supply many suitable solutions.
All workstation tops can be manufactured with cable ports, scallops and power boxes to satisfy the many needs of the modern office environment.
We are able to supply many well proven base systems ranging from simple fixed height single metal frames through to sit/stand back to back electric height adjustable solutions with electronic controls to suit the Occupational Health & Safety requirements of today's modern office.
Power and data cabling can be either incorporated into the 50mm and 75mm screen systems, run through wire baskets mounted under the desk tops or run through cable trays built into many of the leg systems that we use.
Many options are available for mounting the power points and data outlets either within the screens, under the desk tops in wire baskets or finally in cable trays mounted to the leg systems and with the use of power rails mounted on the desk tops, the user has easy access to all the power, data and USB charging outlets they require whist sitting at their desk.